Born in the area of Birmingham that helped inspire Tolkien's Middle Earth, Aaron S. Jones grew up with a love of fantasy. Inspired by his father's interest in Lord of the Rings, Jones caught the fantasy bug and read anything he could get his hands on. Moving to the Middle-East and beginning a teaching career, Jones experienced a different world away from the green of the UK and has been able to mix in his experiences around the world with the time he spends in other worlds to write his debut fantasy novel – FLAMES OF REBELLION. If you like bloody battles, despicable but hopeful characters, and a grim but diverse world, then this book is for you.
For fans of JOE ABERCROMBIE, ROB J. HAYES, SAMANTHA SHANNON, and JOHN GWYNNE, FLAMES OF REBELLION is the first part of THE BROKEN GODS trilogy. PATHS OF CHAOS continues the epic journey in 2021.
CONNECT WITH AARON
---
Welcome to SPFM, Aaron! Since we already have your bio, describe yourself in three words.
Passionate, Creative, Sarcastic
––
Summarize your book, Flames of Rebellion, using one gif.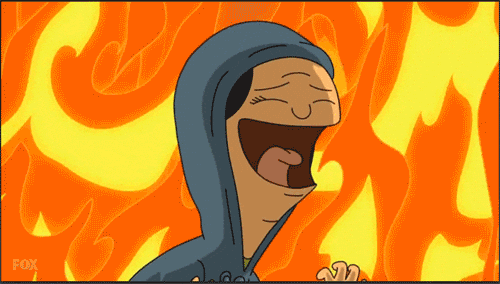 ––
If you could recommend three self-published books, which would you choose and why?
The Sword of Kaigen by M. L Wang – because it is filled with interesting characters and is a unique Japanese-inspired fantasy novel with excellent worldbuilding.
Never Die by Rob J. Hayes – I love the Wuxia style adventure with samurais and Shinigami. Grim but with humour to lighten the mood. Also, Rob does a lot to support fellow self-publishing author and seems like an awesome guy!
Black Stone Heart by Michael R. Fletcher – It's violent, grim and is an interesting tale about a character whose heart has been shattered and littered across the world. A cracking dark tale for fans of fantasy.
––
What is your favorite part, and your least favorite part of self-publishing?
My favourite part of self-publishing is the freedom of being able to just write for myself. I get lost in the characters and enjoy using the fact that there is no one breathing down my neck about when the story should be finished or what the artwork should be. The choices regarding my novel all lie on my shoulders. Of course, there are issues with this approach. The cost of editing, formatting, and illustrating a novel is high and they are each important parts of the process. The work that goes into networking and building a fan-base is tough but I enjoy this aspect. The writing community is amazing and very welcoming and it's always interesting to hear other people's opinions and tales.
––
What's your process for creating fully fleshed out characters?
I think about people that I know and I try to dial up their mannerisms and personalities to 11! I am lucky enough to have a very diverse friendship group and love to take little bits of their personalities and experiences and shape them into the characters that I write. Watching as much TV as possible, reading a wide-range of authors and studying history books from various countries all help to mould the characters I put onto the page.
––
What's your writing ritual/routine like?
I spend at least an hour every day writing after a day of teaching. I like to play music to get me into the specific frame of mind needed to write certain scenes. The Lord of the Rings soundtrack helps a lot in general, as does the Interstellar soundtrack. Playing heavier rock music like Devil Sold his Soul and Architects have helped with writing some of the explosive battle scenes in my current trilogy.
––
What do you need in your writing space to help you stay focused?
Lots of books! I love to surround myself by inspiration and looking at the books of Tolkien, Joe Abercrombie, Jonathan French, Rob J. Hayes, Samantha Shannon, Matthew Harffy, G.R Matthews (I could go on…) help me to stay focused and give me something to aspire to.
––
What are common traps for aspiring writers?
I think the main trap is spiralling into the abyss of self-doubt. It is so easy to tear your own writing apart. You are the one who wrote it and so you are so absorbed with the whole process that it is very difficult to assess and analyse it within that bubble. Giving up on writing is so easy and is a major obstacle in completing novels. Understanding that your writing will get better and reading about the journeys that other writers have been on will always help. Take a break and give your writing some space before looking at it again.
––
What was the best money you ever spent as a writer?
Editing. I have been lucky enough to have Jon Oliver copy-edit my books and he has been able to pick out the mistakes that I was too close to see. I must have read my own books hundreds of times throughout the whole writing process so an editor is a must have! They spot the small things that you are too close to see.
––
Which one of your characters would win in a lightsaber fight?
Istari Vostor is the greatest swordsman in the history of Takaara. He would wipe the floor with any opponent! I'd love to see him up against Darth Maul…
––
If you could have any superhero power, what power would you have and why?
The ability to travel through time would be incredible. I love so many eras in history and it would be such an amazing thing to be able to experience both the big and small moments in history. Romans, Egyptians, Vikings, The Golden Age of Islam, Edo-era Japan… the possibilities for learning are endless!
---
About Flames of Rebellion (The Broken Gods #1)
A dying world. A broken mage. An oppressed people.
The world of Takaara is about to change but are the people ready for it?
A young, nomadic mage, Arden Leifhand, journeys across the harsh Borderlands searching for his place is the world. Taken in by a tribe of warriors, Arden discovers there may be more to him than the bullied outcast he had always thought he was.
Meanwhile, south of the Borderlands, Katerina Kane is thrust back into her old life of solving crime in Archania as she searches for the murderer of her lover. Archania has changed since she last worked a case and The Empire of Light is tightening its grip on the land. Through it all, rebellion stirs with the downtrodden citizens as the land teeters on the edge of war.
"The Flames of Rebellion is a stunning masterpiece for this debut fantasy novel. I am clearly impressed, happy, and was so engrossed in what this story evolved into."
10/10
FANFIADDICT.COM