Dublin born, regional Victoria-based Emmet O'Cuana is a writer and critic. He is also an aspiring home cook. One day, he dreams of owning a miniature goat.
CONNECT WITH EMMET
---
Welcome to SPFM, Emmet! Since we already have your bio, describe yourself in three words.
Odd. Obscure. Cat-daddy.
––
Summarize your book, The Beating of Wings, using one gif.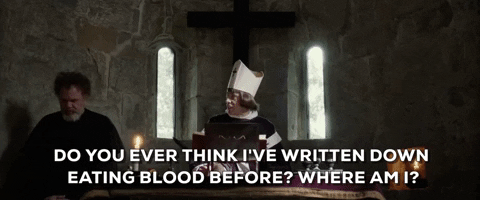 ––
If you could recommend three self-published books, which would you choose and why?
The 4th Domain by M. John Harrison – I think this is a cheat, but I first encountered this short novella as an Amazon single. My understanding is Harrison had been publishing stories like this through his blog, so I'm featuring it here. Nevertheless, Harrison is always a must-buy for me. I bought his novel Light based on a rapturous review (from memory, claiming that the book 'saved English literature'). There has been no going back for me since.
The Horizon is a Kettle by Mathilda Cullen – Cullen writes about poetry, philosophy and music in a way that I find very exciting and rewarding. She also introduced me to Sean Bonney's poetry, for which I am both grateful (and embarrassed that I was unaware of him). The Horizon is a Kettle is written as a response to the late Mark Fisher's work, which got my attention. There was a time there when every second article I was reading namedropped Fisher – proof of my own self-selection of material no doubt. Cullen's grasp of his oeuvre and her own contribution to this style of argument – politically committed, eclectically sourced, gleefully straying from the Anglicised canon – is thrilling stuff.
Tanuja Ramachandran: Hunter-Seeker by Kumar Sivasubramanian – full disclosure, Kumar is a friend of mine. In fact, we are both contributors to Tim Young's Deconstructing Comics podcast (I have a running bit where I count how many times one of us mentions Alan Moore per episode). I read an early proof of this book and was struck by its mash-up approach to 70s B-movies, Bollywood melodrama, a certain comic absurdism. It's the literary equivalent of DJ Shadow and Dan the Automator's Bombay the Hard Way! I can't think of higher praise.
––
What is your favorite part, and your least favorite part of self-publishing?
If the point of making something (and who's to say there is only one) is to create for the sake of creating, I see self-publishing as ideal. It allows experimentation and creative play, without the same degree of financial compromise based on established audience demand. One of the challenges of the current publishing landscape is how much authors are expected to essentially market themselves – through social media and any number of online or local outlets. So how to distinguish between a self-published author or a writer with the apparent backing of a publishing house? It's more difficult to discern – and I feel as if we're all standing together in a crowded room.
––
Why did you decide to self-publish?
I was bitten by the comics bug a few years back after hosting a comics podcast focused on interviewing Australian and New Zealand creators. These conversations encouraged me to try creating my own stories, in collaboration with artists (I have no artistic ability). I have submitted some short stories to publishers and anthologies here in Oz, as well as in the UK and the States. But this was a piecemeal approach. So, I put together my first self-published comic Faraway, with the same artistic team as The Beating of Wings (Jeferson Sadzinski and Thomas Mauer). This was intended as a showcase for the kinds of stories I would like to do, either for myself or a potential publisher. Comics are famously cheaper to depict certain kinds of stories (in comparison to say films or video games), so I find the medium very rewarding – and the indie community is a broad and welcoming one.
––
How do you approach worldbuilding?
I am largely suspicious of it. I feel as creators and readers, viewers, participants, we are so embedded in genre, we recognize within a very short span of time the kind of story we are in – even the kinds of characters and situations that are about to be presented to us. At its worst worldbuilding can threaten to be derivative of previous works – at its best, I believe we do not even notice it, or the writing is so enthralling, we are carried along and the eventual reveal of a detail of that fictional world is a pleasant, unexpected surprise (see Muir's Gideon the Ninth for an example of this).
I'll quickly share a story. Years ago, I worked in an office with a young chap. He told me he was working on a novel. I've never written a novel, but I always wanted to, so I encouraged him. But then he revealed he was working on the backstory to the main story. He had drawn a map. He was figuring out the history to this fantasyland. And he could not start writing the story until he had completed these, infinitely regressing, steps. That struck me as incredibly sad. The difference between many fantasy authors and You Know Who with his grasp of worldbuilding, is most fantasy authors are not philology professors!
––
If you could go back in time, what's one thing you would tell your younger self?
Mate, any fecker can do it.
––
If you were to write a spin-off about a side character, which would you pick and what would it be about?
It would have to be Sister Gotha. I invited three artists to contribute pieces drawing on the characters and situations shown in The Beating of Wings, but left them free to choose what to do. Laura Renfrew was first through the gate with her version of Gotha – and the other artists Aisling King-Macklin and Sarah Winifred Searle also expressed an interest in illustrating Gotha. 'Ah', I thought to myself 'I've got something here.'
Gotha can trace her descent back to Annie Lennox, in particular her appearance in the video for Sweet Dreams (are made of this); Dorothy Porter's Jill Fitzpatrick from The Monkey's Mask is in there too.
But if I was to attempt a further story, I would have to do right by Gotha – she could easily kick my ass.
––
What are the tools of the trade?
Notepad. Pen. Tunes. The Magnetic Ridge by Jack Harlon & The Dead Crows is currently on heavy rotation.
––
Give a shoutout to a fellow author.
Mr Jason Franks – he guided me down into the depths of Australian comics, and even after I made myself at home here, he's continued to provide advice and commentary on my work. We also staged a black mass when I MC'ed the launch of his latest volume of 'Satanists-in-suburbia' series The Sixsmiths, so he's a fun guy. That series is well worth your time (as are his more recent novels, which you can find here https://jasonfranks.com/).
––
If your book were made into a movie, which actors would play your MC(s)?
Ooof. Tough.
Navid Negahban as December, although he's so suave I imagine they would have to slather on the old age make-up.
Dominique McElligott as Gotha, gotta give the gig to someone from the home country.
And I don't know…have the malign 'Narrator' be David Sterne (I have replayed Dragon Age: Inquisition so many times, I can quote his villain speech as Corypheus from memory!).
---
About The Beating of Wings
Demons stalk the citizens of Emmanuel, Brother December investigates. In his quest to save the city, will he risk losing his soul?
The Beating of Wings is set in a world where magick and religion are interwoven. For centuries mankind has known there are other worlds – and magick is the only defence against predators from these worlds.
This is the second book from the team behind Faraway (2019), with Emmet O'Cuana (script), Jeferson Sadzinski (art) and Thomas Mauer (lettering). The Beating of Wings also features a cover by Tim Molloy and a gallery of art pieces based on concepts from the story by Australian artists Laura Renfrew, Aisling King-Macklin and Sarah Winifred Searle (48 pages).