Joel Spriggs (1982-?) was born and raised in Frankfort, IN. He graduated from Franklin College of Indiana in 2004 with a Bachelors of the Fine Arts in Computer Science and Broadcast Journalism.
Joel's first novel, "Over A God's Dead Body" was published on the Kindle platform in June 2018 and is the first in a planned series surrounding the same characters and fantasy world.
Joel has successfully defended his beard from being stolen 1873 times out of 1877 attempts by his elder brother. On the five occasions he failed, Joel immediately set about growing a new beard and refining his defenses.
Joel lives with his wife and three children in scenic Lebanon, IN. He maintains a website and blog at joelspriggs.com. He is also active on Twitter, @joelspriggs.
CONNECT WITH JOEL
---
Welcome to SPFM, Joel! Since we already have your bio, describe yourself in three words.
Uncanny Hilarious Weirdo
––
Summarize your book, Another Dead Intern, using one gif.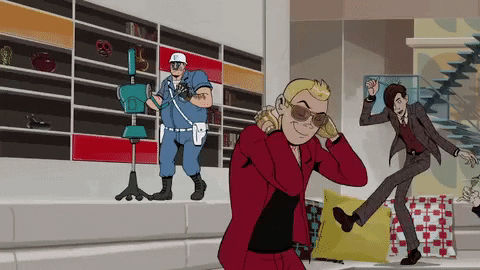 ––
If you could recommend three self-published books, which would you choose and why?
The Graveyard Shift by DM Guay, hilarious paranormal hell bent kind of dark humor that I love.
Duckett and Dyer, Dicks for Hire by Ganesh Nair, hilarious detective hijinx with time and space with sci-fi that feels like new wave Douglas Adams, what's not to love?
Two necromancers, a Bureaucrat and an Elf by LG Estrella, hilarious fantasy that really sucked me in.
––
What is your favorite part, and your least favorite part of self-publishing?
My favorite part is the writing and plotting, making up fun storylines and horrible things that happen as a result of sitting in meetings that should have been an email. My least favorite is a draw between marketing and cover design. Marketing feels like you're surfing on waves that follow no logical gravity, and I just plain suck at design.
––
Why did you decide to self-publish? 
I made some attempts at querying. After a hundred emails and a few months, I realized what querying and getting an agent meant. It meant I needed to find someone that had an ideal in mind that was close enough to me to represent me and my writing. I'm strange though, and as far as I can tell, humor/comedy writing is a hard pitch over romance/fantasy. The serious stuff. I don't like that though, because the world is just too damned ridiculous to not laugh at. Especially sparkly vampires. So, I decided I could spend a few years hunting for an agent/publisher that saw me as their ideal or I could just do that stuff myself and be the one putting in the effort.
––
How do you approach worldbuilding?
I like the idea of one of the characters, main or supporting, being someone new. The reader can identify with someone then that's completely new to the scenario and the world can be a discovery process for the reader with this character. Morgan Burns was my noob in Another Dead Intern, and Esmy & Jake Hansen were my noobs in Over a God's Dead Body. It sounds ridiculously infantile, but I like it and it works. That's the way I enjoyed it in a lot of Terry Pratchett's discworld books. Like Mort, he was just a kid getting an apprenticeship. As he fumbled along, you got a feel for how magic and death worked on the Disc.
––
When did you start writing?
I started writing in high school, mostly journalism and very little creative writing though. That was mostly true through college. I hobbled myself for quite a while thinking I should write some marvelous novel that would be an allegory for American existence and help people and what not. Eventually I just realized, write what I like. If it's trash, it's trash, but it's my trash and I'll be the possum that steals and hordes it.
I had a teacher in high school, Mrs. Barnes, for Freshman english and she tried to discourage me from writing silly things. The assignment was creative writing of a scene where any Shakespearean character has dinner with your family. I picked Tybalt. Then she failed me for taking the stance that given our time period, Tybalt would have to have risen from the grave and was therefore a goo dripping zombie that was very offensive over a pot roast dinner. She really didn't like that I "kicked his head like a football out the front window."
I cherish the idea that I may one succeed in the literary world in the face of her calling my concept trash, because I've got an audience that loves head-punted zombies.
––
You feel uninspired and you've sat at the computer for an hour without conquering any words. How do you get your creativity flowing?
Mainly something else as a side project. That could be a flash fiction, short story, etc. Maybe just pick up another book and read, or grab some supplies/my ipad and try drawing/designing something. As much as I hate design work, sometimes just sitting down and drawing something horribly can be enjoyable and inspirational.
––
How did you know you wanted to write this genre?
I loved reading it, and decided it is just so fun to write. I enjoy joking about anything and everything, so it was a good fit. My only concern is what I might do with goblins and what the warhammer/die-hard Tolkienites cry.
––
What was the best money you ever spent as a writer?
On my iPad. My wife convinced me to buy an iPad pro and apple pencil. That's been the best help for me to have a portable writing station basically anywhere. It allows me to deal with just about everything in the whole process. I write in Pages, draw in Procreate, design in browser programs and Canva, research with the browsers, it just really is a nice workstation that I can take everywhere with a small footprint and good battery life. 
––
Describe a tavern that would be found in your literary world!
The Fifth Horseman is a tavern that is used in Another Dead Intern. It's all cast iron fixtures and old stonework walls. Old worn bar and has to be entered by a blood pact. By giving at least a drop of blood, you agree to the rules of the tavern, which are extremely harsh if you break them. The bar is ran by Yamata, a middle aged Japanese man that usually only responds in one word answers. He can provide you with any drink you want even if you don't know what you want. When it gets busy, tables are served/delivered to via spriggans. It's also got a simple sign outside that says est. 1591, prior to the founding of Boston itself where the bar is located.
---
About Another Dead Intern (Hemlock Connal #1)
Private Investigator Hemlock Connal has a problem with her assistants. They all die… violently. When Morgan Burns became her new intern, they both wonder if he'll meet a similar tragic end.
As Hemlock and Morgan embark on a case together, she teaches about the unseen and blended landscape of magic. Hemlock introduces Morgan to grungy pixies, Fae royals, and the annoyingly bad musical talents of a half-demon.
Hemlock does her best to help Morgan quickly adapt to his broadening world to keep the two things he needs most: his life and a paycheck.
Can he survive Hemlock's sarcastic nature, dealing with murderers and magical creatures? Or will Hemlock just get another dead intern?