L.A. Wasielewski is a gamer, nerd, baseball fan (even though the Brewers make it very difficult sometimes), and mom. When she's not writing, she's blasting feral ghouls and super mutants in the wastelands, baking and cooking, and generally being a smart-ass. She's very proud of the fact that she has survived several years with two drum kits in the house—and still has most of her hearing intact.
CONNECT WITH L.A.
---
Welcome to SPFM, L.A.! Since we already have your bio, describe yourself in three words.
Smart-assed, creative, anxious.
––
Summarize your book, The Alchemist: Dawn Of Destiny, using one gif.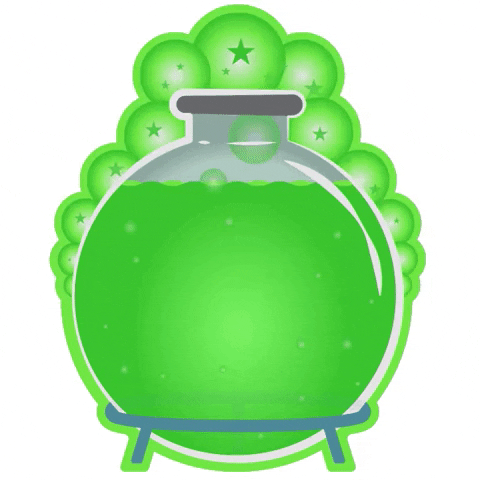 ––
If you could recommend three self-published books, which would you choose and why?
Lilith Hope Milam's The Necrosopher's Apprentice, Deck Matthews' The First Of Shadows, and Mason Thomas' Lord Mouse.
The Necrosopher's Apprentice is a gritty, horror-fantasy with Lovecraftian-like themes that kept me completely captivated until the very end. The First Of Shadows I finished in three days and couldn't put it down! I loved the storyline and characters! It reminded me of questing in a game like Elder Scrolls. And Lord Mouse was another I finished in just a few days, it was fantastic! Entertaining characters and vivid descriptions! I could imagine the world so easily!
––
What is your favorite part, and your least favorite part of self-publishing?
My favorite part? Editing. I LOVE EDITING. I look forward to editing each draft, especially every/other when I print out a hard copy and can get out my colored pens and highlighters. There's something so satisfying about seeing ideas/corrections/etc right there on a printed page. I love seeing my stories change and grow right before my eyes as I edit. My least fave? FORMATTING. Seriously, getting page numbers to cooperate is the bane of my existence. (Even though I have a cheat sheet because I inevitably forget how to do it—it STILL doesn't work half the time.)
––
Why did you decide to self-publish?
I originally queried out my first book, thinking trad publishing was what I wanted. Almost immediately after sending out the first batch of queries, I started to have doubts. I realized I'd lose a lot of control on various things, and there was no guarantee an agent would be able to sell my book. I did see my list of about 100-or-so agents through over the course of nine months, but to be honest, my heart wasn't in it most of the time. So, I wasn't disappointed in the least when I didn't have any interest on my queries. I knew self-publishing was going to be hard, and it's been the most difficult thing I've ever done (save for having a kid who didn't sleep through the night until he was 8), but I'll never query again. I love having complete control over my books from start to finish. I don't do it alone, and I have very trusted family/friends/colleagues who help with editing, test-reading, and advice, and a professional cover designer—but I'm still in control. I love being a self-published author, and I wouldn't have it any other way!
––
If you were to write a spin-off about a side character, which would you pick and what would it be about?
*ahem* It just so happens that I already did…and it'll debut some time in 2022. 😉 It's the backstory of Mercer Nox, a fellow alchemist friend of Ryris', with a whole lifetime of stories—some good, some bad—that he is very reluctant to share with his friends, and usually doesn't. These are those tales.
––
How did you know you wanted to write this genre?
I grew up reading fantasy (Darksword, Death Gate, Fred Saberhagen's Swords books) and it always captivated me. As an adult, I found Dragon Lance (are you noticing a Weis/Hickman pattern here? 😉), and continued on my fantasy reading journey. After nearly a decade of writing fanfiction for various fandoms (and I still do on occasion!), I decided to try my hand at an original story. Fantasy was a natural choice. I love reading fantasy, love playing fantasy-type games like Elder Scrolls. I was confident I could build a world and create characters that would enthrall readers like I was enthralled all those years ago. I think I've accomplished that…at least, I hope I have!
––
What was the best money you ever spent as a writer?
Well-made, eye-catching covers. My designer is so incredibly talented, and my books shine because of her. I've had so many compliments on my covers, and I know it helps to sell them for sure.
––
Give a shoutout to a fellow author.
Kristin Kuffner! https://twitter.com/KMKWrites Her debut was a sci-fi tale, but I have it on good authority that she's tinkering with some epic fantasy… 😉 Stay tuned, give her a follow on the Tweet-Mo-Tron, and pick up Binding Moonlight in the meantime. *shameless plug*
––
What is the funniest typo you've ever written?
Not in my published books, but when I was writing Star Trek AOS fanfiction, I was CONSTANTLY writing "starSHIT" instead of "starSHIP."
––
Tell us what lies ahead for you.
The third book in my Alchemist Trilogy is due September 2021, just in time for Self-Published Fantasy Month! After that, there's a backstory novel ready to go (it just needs a cover) that will release mid-2022 sometime, along with another completed Secret Alchemist Side Project that will probably release late-2022 or early-2023. There are also several other Alchemist Side Projects in the works, too! I'm also currently working on a new fantasy series starring a group of bad-assed women in their late-30's and early-40's. There's no timetable on when the first book will drop, but it's coming eventually!
---
About The Alchemist: Dawn Of Destiny (The Alchemist Trilogy #1)
Ryris Bren is a talented alchemist with a secret: forbidden magical power. After making his way to the capital city to open a new shop, he goes on a routine harvest trip and soon discovers his life will never be the same. Destiny, it seems, had her eyes set on him—even before his birth. He stumbles across a specter from the past, one who will turn his life upside-down and force him to face demons he never thought possible. With war now on the horizon, an evil necromancer and his new pawn threaten to transcend time to wreak the havoc he was denied on an ancient battlefield—and Ryris needs to decide if secrets are best kept…or utilized to his advantage.