Tessa Hastjarjanto is a Dutch/Indonesian writer from the Netherlands. She writes speculative fiction, and blogs at narratess.com about books, fountain pens, and writing.
From a young age, she imitated popular stories and games in creating her own worlds. This love eventually led to a master's degree in media and game studies at the University of Utrecht. However a mundane desk job was enough to inspire her to follow her creative passion. The first fanfics were written in lunch breaks and soon original fiction followed.
With the support of her husband, she now focuses on her writing career while battling chronic pain. Swiss white shepherd, Shiro, acts as a therapy dog to keep her healthy and reduce stress through extensive cuddle sessions.
CONNECT WITH TESSA
---
Welcome to SPFM, Tessa! Since we already have your bio, describe yourself in three words.
Dreamer, food-lover, unstoppable
––
Summarize your book, Devil's Deal, using one gif.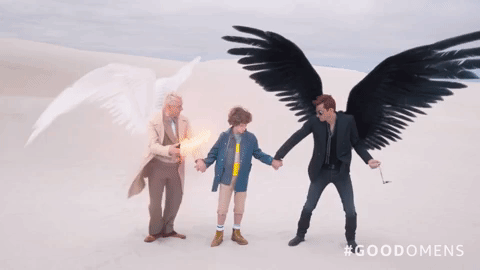 ––
If you could recommend three self-published books, which would you choose and why?
May Day by Josie Jaffrey. I love Josie Jaffrey's writing, but Jack Valentine, the main character of the Seekers series is something else. May Day combines Josie's fast-paced, thrilling writing with an incredibly interesting character. I've read almost all of her Silverse books and can recommend them to anyone who loves a good, blood sucking vampire.
The Harwood Spellbook series by Stephanie Burgis. This series might be the complete opposite of Josie Jaffrey's book. Stephanie Burgis writes much softer stories. Her character are fearless in a different way. The Harwood Spellbook series consists of standalone stories in a Regency era fantasy world. They're a perfect palette cleanser in between longer books or when you're binging on a series and want something lighthearted and fun in between.
The Grimoire Saga by S.M. Boyce. This is the first indie series that captured my heart and I'll never forget it. It's a portal fantasy with interesting races and cultures. This was the kind of thing I wanted to write. And read more of. S.M. Boyce recently got back into writing and I'm looking forward to reading more of her work.
––
What is your favorite part, and your least favorite part of self-publishing?
My least favourite part is talking about my books and writing. When someone asks "What do you write?" or "What's your book about?" I shut down. I know what it's about but how can I share everything I know in just three sentences (or one gif?!) or so? Every time someone asks something like that, my brain is like that math meme, trying to make sense of something incredibly complex.
––
What's your writing ritual/routine like?
I deal with chronic pain on a daily basis so having set hours is tough as my energy fluctuates a lot. Throughout the years, I have noticed some things that work well to get into the zone quicker if I did feel up to writing.
My music volume has to be at 12. Higher is too distracting, lower not loud enough to trick my brain. My go-to playlist on Spotify is Ambient Relaxation at the moment.
I have to be comfortable. No matter where I write, my body has to have the least resistance. This can be a problem with my joint pains and frequent injuries, but the most important thing is warmth. I can't regulate my body temperature well, so I like plaids, scarves, cardigans, gloves, thick socks. Whatever keeps me warm.
Drinks! Tea, water or both. I have to have at least something available.
For my sprints, 15 minutes with 5 minute break works best for me. It's long enough to stay focused, but not too long to overexert myself.
I have to take a minute or two to focus. I now have a Fitbit and will often do a short breathing exercise to focus my mind. This keeps distractions out of my mind longer. I need this especially when I'm going to work on something that I don't feel inspired to write. Let's not forget writing is hard work too.
––
If you were to write a spin-off about a side character, which would you pick and what would it be about?
If I'm going to write a spin-off series from Infernal Contracts, the main character will be Josy. I've got the perfect setup in the last book of the trilogy and I don't want to spoil it yet. So I'll just leave it at that.
––
How do you celebrate when you finish your book?
I don't get a haircut often. I don't think I need it because I like growing out my hair. But getting a haircut and maybe a dye job, that's a real reward for me. I love it when people play with my hair, so getting my hair done, looking all fresh and colourful, that's what really makes me smile. I've had blue, purple, turquoise, and red hair. When I was younger I just got highlights, but now I'm more bold and get my whole hair done. I don't know what I'm going to do yet when my next book comes out. Maybe I'll tell my hair stylist she can do whatever she thinks will look good on me.
––
What are common traps for aspiring writers?
I lurk on the writing-related subreddits a lot, and one thing I see is new/aspiring writers worrying about things far, far in the future. They've only written the first three chapters of their book, and they already worry about movie deals, or six figure deals.
Finish your book. That's your job as a writer. Only when it's done can you worry about the business side of things. You might want to edit it at least once too before you think of sending it to an agent or editor.
––
What was the best money you ever spent as a writer?
Probably getting a developmental editor. Especially when you're new and don't have much experience writing stories, having someone who knows their stuff critique your story will help you grow. I found a great editor who helped me turn Devil's Deal into something much better. But there are other options too, like a writing workshop or group, critique partners, beta readers. This can be much cheaper than finding a developmental editor.
––
Give a shoutout to a fellow author.
I want to give a big shoutout to Sarra Cannon. She's a longtime self-published author and one of her other passions is helping authors. She has a few courses to get started in the self-publishing business, but she also has her Youtube channel called Heartbreathings where she shares her knowledge and experiences. If you're interesting in being self-published, definitely check her out.
––
Favorite writing snacks?
Chocolate. Or anything sugary actually. Cookies, pastries, fruits. That said, it's better to not eat those while writing because that's how you gain weight quickly. I once did cashews, which was a healthier alternative, but still, nothing is healthier.
---
About Devil's Deal (Infernal Contracts #1)
When two angels break their deal with the devil, he comes for the one they're trying to protect.
Eleonora Santora is a 16-year-old student at a Dutch high school in Lakeside, a city close to Amsterdam, where the life of a teenager is rather uneventful.
But when two boys transfer into her class, everything changes. Ben and Danny are not who they claim to be, and when their nefarious deal goes wrong, Nora is caught in the middle.
To fix their mistakes, she must face the devil and make an impossible choice—or pay with her life.